Getting a background check conducted can be stressful, especially when you don't know how it works. The comprehensive guide below will give you all the answers you need for receiving or performing a background check in the state of Tennessee.
Tennessee Background Check Laws
The central repository for information about criminal history in Tennessee on any individual is handled through the Tennessee Bureau of Investigation (TBI).
This includes details about any misdemeanors on file or felonies that were recorded with a fingerprint card from the agency that performed the arrest and submitted the files.
The public will be granted access to these files whenever a request form has been submitted. In some cases, a criminal history report won't be available. This typically happens when an individual's case has been sealed or expunged.
Only the name asked will be searched when requesting a criminal background report in Tennessee through the TBI website. It will not include any alias' or maiden names.
Employment Background Check Laws
Employers are obligated to follow the guidelines set forth by the Equal Employment Opportunity Commission (EEOC) when deciding who they deny employment to.
The EEOC has brought on several cases for refusing applicants' employment due to their past criminal histories. These cases were influential in the results given simply because the denial of employment was not justified.
When an employer uses a criminal background check while making employment decisions about applicants with criminal histories, they must ensure that the position being applied for is relevant to the charges on an applicant's background check.
Suppose the criminal background check findings are not relevant to the position being applied for by the applicant. In that case, the employer should not use that information when deciding whether or not to hire the applicant.
Instead, the employer should look at the applicant's qualifications and decide whether or not they are capable of performing the job duties associated with the position they are applying for.
The EEOC's main objective is to ensure that all applicants are treated fairly when making an employment decision.
How to Get a Criminal Background Check in Tennessee
Anybody who lives in Tennessee can use the Tennessee Bureau of Investigation's (TBI) website to conduct a general background check on any person, including themselves. The cost is $29 (non-refundable), and it can be processed online.
This process is called an 'Open Records Check' and is considered a name-based only search of records. You would not be permitted to do a criminal background check on any juvenile unless they were charged as an adult at the conviction time.
You can obtain more information by calling the Tennessee Open Records Information Services at 615-744-4057. Do not include any additional information or fingerprint cards with your submission because they will not be included in the search.
If you would like to obtain a criminal record history from the FBI using a fingerprint card, then you may do so for yourself only. This cannot be used for any licensing or employment purposes. Simply call 877-783-4187 for additional information.
Additional ways to get a background check in Tennessee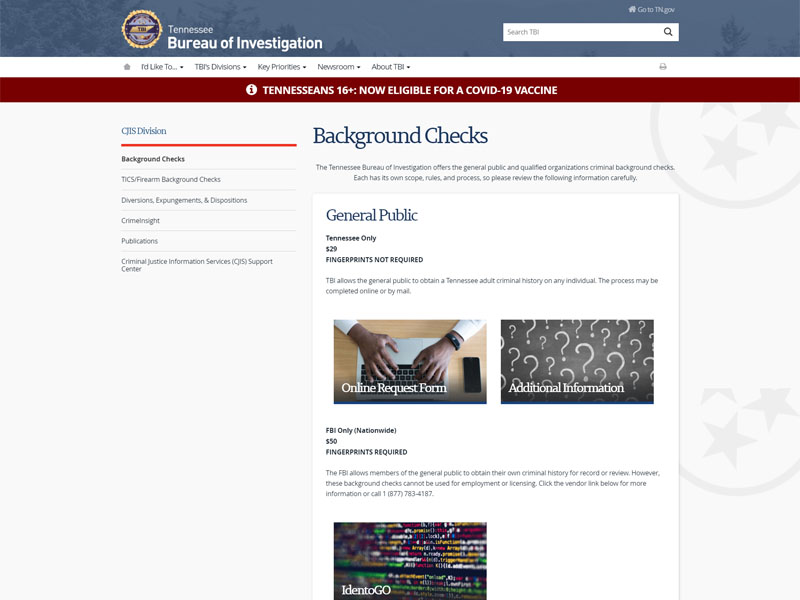 There are plenty of resources online that offer different types of background checks. However, you should consider the source and make sure that the information they provide is complete and found to be true.
Many companies that offer instant background checks will provide you with the same details you can obtain for free by going to a courthouse and requesting records.
Keep in mind that you will need to go to the relevant court to seek files on an individual where the supposed crime took place.
Some companies will do a complete background check for a nominal fee and provide you with results in three to five days. These generally work well, and the information received should be reliable.
However, check reviews or take a look at the Better Business Bureau's website before hiring any company to do background checks on your behalf.
Credit Check Report
Every American citizen is entitled to check their credit report history for free by requesting it from one of the top three credit reporting agencies. This is recommended to every person so that identity theft can be revealed and possibly prevented.
The top three agencies are:
Equifax
Experian
TransUnion
You do not have to request your free credit reports from all three agencies at the same time. You can spread this out over the course of a year and keep a closer eye on any suspicious activity.
Identity theft is very concerning throughout the entire world, and over 9 million Americans are victims of identity theft each year. Keeping an eye on your report is ideal for preventing any complicated issues from arising.
What Can Employers See on Your Background Check?
Since Tennessee is a 'ban the box' state, there are restrictions in place when it comes to public employers. Companies are not allowed to ask questions about an applicant's criminal past until the first interview is being conducted.
In some cases, depending on the jurisdiction, employers may need to make an employment offer before inquiring about any convictions or criminal activities, including arrests. Check the laws pertaining to the jurisdiction you are residing or applying for employment in.
However, if an employer is considered private, they can inquire about your criminal past before setting up an interview. The anti-discrimination laws are in effect and do offer some forms of protection when being rejected for employment.
Most companies initiate the background check process to verify a candidate's qualifications and prior work history. They will want to see if what an applicant puts on their application can be verified through a background check.
This is standard practice for many businesses that need to know how trustworthy a person is before bringing them on board as an employee.
Here is what most employment background screenings include:
Your Full Name, Maiden Name, and Any Alias' Used
Your Current Address and Previous Address History
Verification of Your Education (Degrees, Diplomas, Certificates, Licenses, Etc.)
Criminal Background Report
Depending on what type of position you are applying for, an employer might also request the following reports:
Credit Background Report
Driving Records
In many cases, it will be mandatory for an employer to have the above two reports conducted. This is especially true when the use of a company vehicle is involved or if you will be handling any of the company's finances.
Notable Exceptions
Suppose you are applying for employment within the Health Care Districts of Tennessee. In that case, an official background check is mandatory and can be used in the hiring process and final employment decisions.
Tennessee school districts are required to perform official background checks on all existing and potential employees. They can also conduct an unofficial background check to get an idea of a person's character prior to going through the hiring process.
If you are applying for a position that works with children, minors, or senior citizens, you will be required to undergo an official background check. The same is true for any applicant looking to work at a financial institution, government office, state or federally run prisons, etc.
What is 'Ban the Box' Laws?
Some states who have adopted the 'ban the box' law must comply with all federal laws and, in most cases, other local laws that have been determined per jurisdiction. It's important to note that any local ordinances for 'ban the box' will be mandatory regardless of the federal regulations.
'Ban the Box' laws give every applicant the same opportunity when applying for a job. They enable an employer to judge an applicant based on their qualifications to perform a job rather than their background information.
This is done to protect potential employees who have a criminal history background. The 'ban the box' law states that all employers in that jurisdiction where the law is in effect must adhere to the strict regulations set forth.
This includes but is not limited to restricting employers from asking any questions or inquiring about a candidate's criminal background during the initial hiring process. In most cases, employers will need to refrain from asking any questions until the first interview takes place.
The law also states that employment applications cannot contain any questions or inquiries about an applicant's criminal history background.
Some jurisdictions can implement a waiting period that requires the employer to wait a set amount of days before notifying the applicant of the employment decision. This applies to jurisdictions that have an adverse action in place.
How Far Back Do Background Checks Go in Tennessee?
In general, there is no law in place for any restrictions on how far a criminal background check can go in the United States. However, many states have adopted their own rules to set time limits for employers or other agencies to retrieve criminal reports on background checks.
Tennessee is among the many states that also follow these guidelines and do not restrict the amount of time criminal records are available to the general public.
So if you have a criminal history report that is over thirty years old, an employer can have access to that information when it pertains to convictions and use it in their decision-making process for employment.
However, there are regulations in place for how long an arrest can stay on a report if not convicted as a misdemeanor or felony. The FCRA also has limitations in place for credit reports and how long specific details can remain on your credit file.
The Equal Employment Opportunity Commission (EEOC) recommends that employers use the information found on criminal background checks in relevance to their hiring decision.
For example, if you were convicted for shoplifting twenty years ago and are applying for a tech position, then that conviction should not be held against you. But there is no law stating employers in Tennessee can't use that information in whatever way they deem necessary.
How Long Does a Background Check Take in Tennessee?
Background checks in Tennessee can vary based on the number of details requested. Most employers who use a third-party to conduct their background checks typically receive the results in three to five business days. This can take longer if a criminal record is requested.
When accessing criminal records through one of Tennessee's county offices, then the timeframe for the expected results can take anywhere from five to seven days. There can be court delays that will interfere with the amount of time needed to access some records.
The 'most wanted' check, and a national sex offender search is included for free with all Tennessee criminal background reports.
You can obtain unofficial background reports quicker by using many online resources or going in person to the relevant courthouse for your public records.
As long as the file you are requesting at the court is on the premises, you will have immediate access to those documents.
Background Check Gun Laws in Tennessee
If you are looking to buy a gun from a licensed firearms dealer or even a pawn shop, you will need to undergo a background check that the Tennessee Bureau of Investigation conducts.
All background checks for gun purchases are performed using a system known as the Tennessee Instant Check System (TICS).
You can be denied the right to own a gun if any of the following are found on your background check:
Felony Conviction
Fugitive (Addicts or Illegal Drug Use)
Committed to a Mental Institution (Involuntarily by Indictment)
U.S. Citizenship Renounced
Domestic Violence Conviction
Restraining Order in Place
Dishonorably Discharged from the Armed Forces
Misdemeanor Punishable by More Than Two Years
Court Convictions of Any Crimes Punishable by More than One Year
If within 15 days, TBI or the purchaser cannot access and review the disposition's final details, then TBI must inform the licensed firearm dealer that the transfer of the gun can be legally performed.
Note: If you believe you were denied access to purchase a gun due to your background check, then you may make an appeal.
What Shows Up On a Criminal Background Check in Tennessee?
Every employer in Tennessee, as well as all the other states, must adhere to the strict federal guidelines set forth by the Fair Credit Reporting Act (FCRA). There are laws in place that have to be followed during any employment process, including the pre-screening of applicants.
The laws in Tennessee regulate what can be reported on a criminal background history search. Here is what a person will typically see on this type of check:
Name of the Defendant
Jurisdiction Record Location
Disposition and Date of Disposition
How Many Charge(s) Filed
Criminal Offense Charged (Misdemeanor, Felony, Sex Crimes, etc.)
Date(s) of Filing
Case Number(s)
Length of Sentence(s)
Private employers in Tennessee can access all of the above details and use them in the hiring process as they deem fit. Public employers can only inquire about the findings on a criminal background check during the first employment interview.
Can You Get a Free Background Check in Tennessee?
You can not obtain an official background check in Tennessee for free. To get a name-based background check that is state-only, you will need to pay a fee.
If you want to acquire a fingerprint background check, you will need to do this through the FBI, and there will be a fee to have this type of search performed.
However, if applying for employment in Tennessee, then the employer typically handles all costs associated with your background checks. They do not need to provide you with a copy, but you can request one and see if that is possible to receive.
Court Records
You can have public access to some court records for free by going to the relevant courthouse and requesting your documents. However, these will be limited to the following types of records:
Marriage and Divorce Records
Death Certificates
Birth Records
Court Proceedings
Convictions and Arrests
Note: Some records may not be available due to being sealed or expunged by the court. If that is the case, you will not be able to access these without a court order.
Currently, there is no online access to receive any records through the Tennessee Courts. This is in development, but it has not been completed yet at the time of publication of this article.
You must be a resident of Tennessee to request access to public records from the courts. If the documents you are requesting are not currently available, then according to the law, the court must provide these within seven days from being asked.
This only applies to records that are not stored onsite but are available to the general public. This does not include any files that are restricted, sealed, or expunged.
Why Do People Do Background Checks on Other Individuals?
Performing an unofficial background on yourself or other individuals can be very beneficial. It's an excellent way to monitor your reports and identify any mistakes that have been reported on your record.
Many people conduct background checks on other individuals to see what type of person they are dealing with. This is quite common and has become very popular for many single people looking to get involved with somebody else.
But besides that, they can also be useful to learn things about:
Potential Business Partners
Neighbors
Roommates
Friends or Family Members
Romantic Interests
Individuals Your Child is Dating
If conducting the background searches yourself, you may need to go to the state agency or the relevant court to get your reports. If you prefer not to do that, you can always look for a company specializing in unofficial background checks.