Confused about how background checks work in the State of California? Have no fear! In the following article, we'll cover everything you need to know: the relevant California laws, how you can go about getting a background check, what these checks actually look at, and more. Read on to find out all about it.
General Info on Background Checks and Related Laws in California
As elsewhere in the country and the world, background checks are typically used in California for screening job applicants, renters, people interested in working with children, and in other similar situations. That said, the use of such checks is more restricted in California than in many other parts of the US.
As in most areas of public life, California has no shortage of laws and regulations regarding background checks. These laws pertain to how and when employers and others can run background checks on individuals as well as how they are allowed to be used in considering candidates for jobs or even promotions. Below is an overview of the most relevant laws.
Fair Credit Reporting (FCR) laws
According to the federally enacted Fair Credit Reporting Act, or FCRA, of 1970, those wishing to access consumer reports – including background checks – for credit, insurance, or employment purposes are obligated to notify the person being checked if any adverse action is to be taken based on the findings of these reports.
Additionally, if the checks are for employment purposes, those requesting them must obtain written consent from the subject of the check and inform the person of how his or her information may be used.
They must also provide the person being checked with a so-called pre-adverse action notice, along with a copy of the relevant credit report if they do not hire the applicant as well as allowing him or her the opportunity to dispute the information it contains.
California's FCR statute also requires employers to furnish would-be employees with a second written disclosure, apart from the standard FCRA one, requesting their consent to a background check. Moreover, California law stipulates that, in addition to FCRA mandates, employers must also consider and adhere to state and local legislation in terms of proper use of credit and criminal information in making employment decisions.
California State and Local Ban-the-Box Laws
As of January 2018, California employers with five or more employees must adhere to even stricter guidelines in terms of how they can legally request and use criminal history for employment screening purposes. Regardless of how employers obtain criminal information, they are required to:
Provide applicants with a conditional offer of employment before making inquiries into their criminal history. This includes not only ordering a criminal background check on a potential hire but even asking him or her if he or she has even been convicted of a crime.
Assess any convictions an applicant may have on his or her record on an individual basis and specifically in regard to the job he or she is applying for. Los Angeles specifically also requires employers to share their assessment with the applicant (see more below).
Inform applicants of any adverse action being considered based on their conviction history, as well as citing the conviction in question and furnishing the applicant with a copy of his or her conviction history report. The applicant is then given the chance to provide additional information in his or her defense (up to a specified deadline). For instance, they can offer evidence of rehab attendance or other reformatory measures.
Notify the applicant of any adverse action taken, once the deadline has passed for him or her to submit additional information. Employers are also required to inform applicants of their right to appeal the decision made and to submit a complaint to California's Department of Fair Employment and Housing.
It is important to note that, with a handful of exceptions as indicated by the California Labor Code, employers in the state are also restricted from accessing certain types of criminal records for employment screening. These include juvenile records, arrests that did not lead to convictions, non-felony marijuana convictions (when they are more than two years old), diversions, and deferrals.
Los Angeles Fair Chance Initiative for Hiring Ordinance
This city ordinance, which came into effect in January 2017, holds LA-based employers with 10 or more employees, as well as job placement and referral agencies, to even stricter guidelines in terms of accessing and considering potential employees' criminal history. Regardless of how this information is obtained, employers and headhunters must:
Assess, in writing, how the particular details of an applicant's criminal history are relevant to the specific duties and requirements of the job he or she is applying for. As mentioned, this assessment must also be shared with the applicant.
Provide the potential employee with a "Fair Chance Process." Similar to the FCRA requirement for pre-adverse action notice, this stipulation means the person being considered must be given the opportunity to furnish additional information that may shed a more positive light on their candidacy for the job, such as evidence of any inaccuracies in the criminal record.
Provide for a period of five days from obtaining the background information before either taking adverse action or filling the position applied for.
The employer must consider any information furnished by the applicant being screened and perform a new written assessment accordingly. If the employer ultimately decides to take adverse action, he or she must send the candidate a notification that includes a copy of the reassessment and the adverse action notice.
San Francisco Fair Chance Ordinance
Effective as of August 2014, San Francisco's Fair Chance Ordinance was the first of its kind in the state. Similar to the Los Angeles legislation explained previously, San Francisco's ordinance imposes additional restrictions on employers based in the city who employ five or more employees when running or using background checks for employment purposes. The ordinance requires such employers to:
Furnish applicants with a copy of the Office of Labor Standards' Fair Chance Act Notice prior to asking about or running a background check on their criminal history.
Post the same Fair Chance Notice in a highly visible location at any workplace or other location pertaining to the employer within the limits of San Francisco. The employer is also required to send copies of the notice to any labor union or worker representative they have work agreements or understandings with.
Post the Fair Chance Notice publicly in English, Spanish, Chinese, and any other language that is spoken by at least 5% of employees.
Refrain from considering certain criminal records, including convictions older than seven years old, infractions, and convictions for conduct decriminalized since the conviction date (for example, some marijuana offenses).
How Do I Get a Background Check in California?
For employers
The first step in obtaining a background check in the State of California is to apply with the California Department of Justice to be recognized as an authorized applicant agency. Even once approved, as mentioned previously, you will still need to get written consent from any applicant you wish to run a check on before proceeding.
Employers can conduct background checks independently or by hiring a third-party company, known as an investigative reporting agency, to carry them out. The process varies in scope but can include contacting former employers, associates, and even friends and neighbors in order to verify applicant information and establish the applicant's character and reputation.
For self-checks
Some people may wish to run background checks on themselves for the purposes of previewing what potential employers may be accessing when screening them, and/or in order to verify that the information that comes up is accurate and up-to-date.
Individuals wishing to conduct a background check on themselves are required to submit fingerprint images to the California Department of Justice, as well as paying the department a processing fee. In some cases, applicants may receive a waiver for these fees. Note that California residents should use Live Scan to get their fingerprints taken, while out-of-state residents will have to submit manual fingerprint cards.
What Shows Up On a Background Check in California?
Background checks can screen for any number of things, including an individual's criminal, employment, and financial history, as well as his or her education and credentials.
When a background check comes up with a criminal record, this information may include:
Background checks can screen for any number of things, including an individual's criminal, employment, and financial history, as well as his or her education and credentials.
When a background check comes up with a criminal record, this information may include:
A criminal charge or charges
The relevant offense level
The date of filing
The case's disposition and disposition date
Any sentencing information
What Do Employers in California Look for When Running Background Checks?
Most California employers include criminal background checks as well as verifying things like certificates, degrees, and other educational qualifications listed in a candidate's application information. They can also check things like an applicant's driving records, and some employers may require pre-employment drug screening along with the background check.
It should be noted that for candidates applying to jobs that pay less than $75,000 per year, civil judgments, disciplinary measures pertaining to professional licensure, and any government sanctions are barred from background checks.
How Far Back Do Background Checks Go in California?
As mentioned, according to state law, background checks in California can only report criminal records that are less than seven years old. This includes all arrests, indictments, convictions, misdemeanors, and complaints. In addition, arrests that did not lead to a conviction, as well as full pardons and expungements, cannot be reported, regardless of their date.
California law also stipulates that employers are required to retain all employment background checks for at least two years.
How Long Do Background Checks Take in California?
The length of time it takes to get results on background checks in California depends on the method used to conduct them. For example, if employers opt to carry out the search themselves, the task of searching the copious public records that may be available can take quite a long time. The same is true for individuals attempting to research themselves, if not using an agency.
Conversely, investigative reporting agencies are experts in this type of work and have access to tools and contacts that greatly speed up the process. Sometimes, these agencies can get results back to the requesting person or company within days or even hours.
Note that due to related court and agency closures, the ongoing Covid-19 pandemic is likely to cause delays in processing background checks.
How Long Do Background Checks for a Gun Take in California?
Individuals wishing to purchase a firearm in the State of California are subject to a Personal Firearms Eligibility Check, or PFEC. Note that while the California Department of Justice can access all authorized state databases in conducting such checks, the results will not display any criminal history. Rather, the results will only indicate the individual's eligibility or ineligibility to possess, receive, or purchase firearms in California.
According to the California Department of Justice's Bureau of Firearms, the department has up to 30 days to run and complete statutory PFEC background checks for those applying to purchase firearms in the state. That said, these checks were typically finalized within the 10-day waiting period stipulated by the California Penal Code. Here too, however, the Covid-19 pandemic is likely to cause delays.
What is an FBI background check?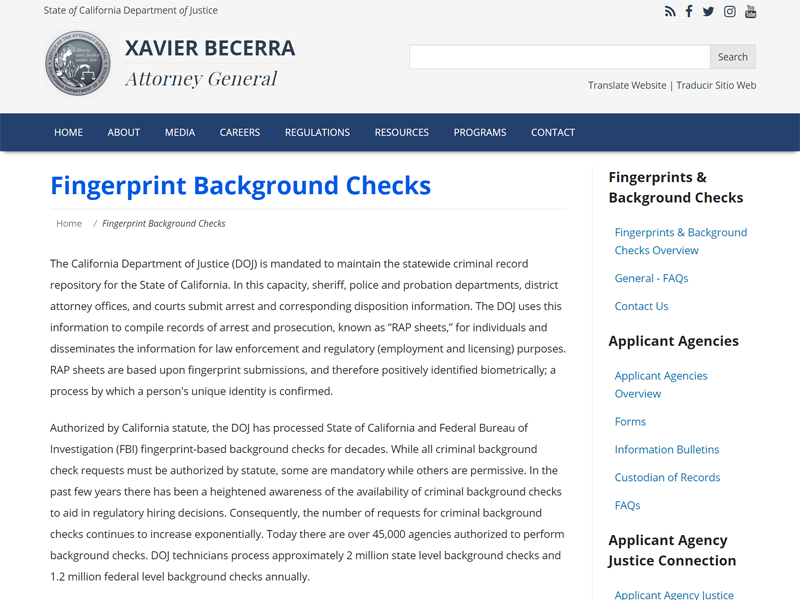 Some employers and positions, particularly for jobs with federal agencies or companies that work with or for the federal government, may require an FBI background check in addition to or in lieu of standard background checks.
The information such checks scan and report on is similar to those in standard criminal background checks, with the distinction that it includes looking into any and all interactions the person being screened may have had with law enforcement agencies that share information with the FBI database. It is worth noting that this can include arrests that did not lead to indictments or convictions.
FBI background checks will require the submission of fingerprints taken by an agency recognized by the FBI. The FBI then checks the submitted prints against its Integrated Automated Fingerprint Identification System (IAFIS), which pools prints from law enforcement and immigration agencies, and even from prior employment screens. The IAFIS check tends to be more comprehensive than standard fingerprinting because it checks records on both criminal and non-criminal fingerprint collection.
What are Some Common Red Flags on Background Checks?
Whether you are an individual planning on applying to a job where you are subject to a background test or an employer conducting or hiring out background checks for your potential employees, it is a good idea to familiarize yourself with some of the most common red flags that can show up in background check results.
A criminal record
Obviously, a criminal record is unlikely to leave a positive impression on any employer. What is more, if a company hires a known criminal who then goes on to engage in further criminal activity, the company could be held liable in legal proceedings.
That having been said, we've already seen that not all criminal records will show up in background check results. If you are an individual with a criminal history, it is wise to know what your potential employer is likely to see based on the type and location of the job and the relevant legislation and to prepare yourself accordingly.
If you are confident an employer is going to be informed of specific criminal activity from your past, you should either be forthright about this in your application or perhaps avoid applying altogether. It goes without saying that attempting to cover up something the employer is going to find out anyway will likely be a one-way ticket out the door.
You should pay particular attention to any convictions relevant to the job or industry you are applying for, for instance, DUIs if you are applying to a transportation job or fraud if you're looking to work at a financial institution like a bank.
Remember that California employers, especially within the city of Los Angeles, are required to assess criminal records specifically in terms of how they relate to the responsibilities of the job you are applying for.
Extended and/or Multiple Periods of Unemployment
Employers can be expected to take a very close look at an applicant's job history and to verify the details when conducting a background check. If your employment history includes significant gaps between one job and the next, particularly if there are multiple instances of you being out of work for longer periods of time, this can be a red flag.
If you are an individual concerned that this might reflect poorly on you as a candidate, you would be wise to prepare a clear explanation of the factors behind your periods of unemployment, such as serious illness, family emergencies, or even, in recent times, the Covid-19 pandemic and related economic crisis.
A Revolving-Door Job History
The same can be said of applicants who have a history of struggling to hold down a job. On paper, this can suggest to an employer that the candidate is unstable or difficult to work with, or simply not committed to their position or the company they are working for.
There are, however, cases where it is perfectly normal to have worked at a job for short periods. Examples include seasonal jobs, working over the summer break from school, or employment situations in which you were subjected to unfair treatment, particularly if this is documented.
Individuals with this sort of employment history definitely want to take the time to explain the particulars and allay any misconceptions on the part of the potential employer they are applying with.
Missing or Irrelevant Experience
If you are an individual applying for a job, you should always take the time to research the position and the company offering it and create a resumé that is tailor-made for both. When employers see a lot of work history that is irrelevant to the job on offer, they are likely to sift through the pile to the next resumé in no time flat.
Similarly, submitting a resumé with little or no work history can get your resumé shuffled right to the bottom, or worse yet, to the shredder pile. Even if you are new to the job market or a particular industry, take the time to flesh out your resumé with as much relevant experience as you can, even if it is unpaid or informal, such as volunteer work.
Inconsistent or Dishonest Information
Something candidates should avoid across the board, especially since employers are highly likely to discover it when conducting background checks, is inconsistent or even falsified information in a candidate's application. Clearly, it is unwise to lie about your education, skills, and experience.
Rather, stick to jobs that you are truly qualified to do. And even if you are qualified, don't try to pad out your resumé with credentials or jobs that you did not actually gain or do. Instead, try to demonstrate why you make a strong candidate by amplifying the abilities and experience you really do have.
By the same token, make sure to choose your references carefully. You want to list actual employers or other people capable of vouching for your professional and personal traits from an objective vantage point. Don't think you can get away with listing your best friend, as employers are liable to follow up on these references and may ask thorough questions as to your relationship with them.
Can I Get a Free California Background Check?
Considering how much information background checks access you may wish to run a background check on yourself. This can help you get an idea of what employers or others are likely to find when they look into your past before you consent to share that information with others.
Running a background check on yourself can also help you weed out inaccurate information, which is increasingly more likely to crop up as fraud becomes more widespread.
Unfortunately, there are no free background checks for the State of California. However, there is some background information that individuals can obtain for free. The following is a list of ways you can gather at least some of the information that might show up in a background check.
Court records: You can access the California Department of Justice's public records of courtroom histories for free, though this can usually only be done in person at the relevant courthouse. You can also use the National Center for State Courts to access court records from both within and outside of California.
Bankruptcy records: You can use PACER to search for public bankruptcy and other related records. Though the service is not free, it only costs 10¢ per page. You can also use NETR Online to access state and county records nationwide.
Sex offender records: You can use the Dru Sjodin National Sex Offender Public Website to find registered sex offenders.
Public online info: Finally, you can go the route of a classic web search, which will often yield a surprising amount of information, such as address and phone numbers registered to an individual, including employer and education history, marriage and divorce records, etc. You can also check social media, including professional networks like LinkedIn.