Truescreen is a leader in the applicant screening process. The company provides an expansive range of background checks to bring international business security and peace of mind.
The service is certified by a range of high-brow awarding bodies so you know that you will be given only the highest quality results. They employ advanced tools so they take the stress out of the process. 
Who Is It For?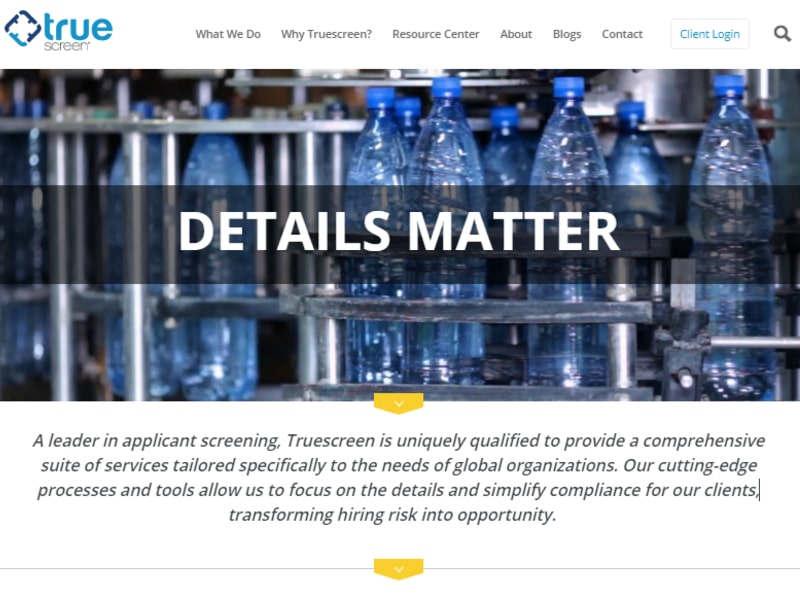 Truescreen Background Check is ideal for those of you who own or manage parts or all of a large company and want to ensure you employ the right people the first time around.
While there are plenty of background check services available, Truescreen has streamlined the process wonderfully. If you are looking for a user-friendly reporting and analyzing screen, then this system is for you.
So, Who Isn't It For?
For those of you with a smaller company who don't have to deal with a large volume of applicants, you won't necessarily need a fully-fledged system like this. Not to mention that the developers themselves target their products to huge organizations!
With that being said, there is nothing stopping smaller businesses from investing in a system like this — it all comes down to personal preference at the end of the day!
What We Like About The Truescreen Background Check
There are plenty of things to like about the Truescreen background check service. The developers and teams involved have a wealth of experience that has allowed them to streamline the process for huge businesses. 
You will be hard-pushed to find a company that offers so many applicant screening services including real-time drug tracking and electronic verifying systems. By far, this is the main advantage to registering with this company.
Alongside all of this, we appreciate the user interface. Generally, background check services don't pay much attention to this side of things, but Truescreen has changed the game.
The customer service is truly excellent too. You can tweet them, use the contact form, chat on LinkedIn, give them a call, and email them. You will receive a call back promptly, which is very helpful in potentially time-sensitive employment matters.
Even though we love many things about Truescreen, there are a couple of things we aren't so sure about. Let's get into that now, shall we?
What We Don't Like About The Truescreen Background Check
Our main gripe about Truescreen is that it isn't helpful for smaller businesses. The service is aimed toward larger enterprises (hence the number of features). This is all well and good but it does ostracize a huge market.
Having said that, your profit might be enough to warrant such a feature-heavy background check service. In which case, you're going to love it! We're just a tad sad that it hasn't shown much diversity when it comes to business size.
[su_row class=""]
[su_column size="1/2″ center="no" class=""]
PROS
[su_list icon="icon:check-circle-o" icon_color="#008000″ indent="0″ class=""]
Certified by ISO, HR Open Standards, AICPA SOC, and PBSA (among others)

Years of experience in the screening market

Have multiple options including occupational health screening, student screening, fingerprinting, and more

99% accuracy rate

Run a state-of-the-art quality check system
[/su_list]
[/su_column]
[su_column size="1/2″ center="no" class=""]
CONS
[su_list icon="icon:stop-circle-o" icon_color="#FF0000″ indent="0″ class=""]
It's targeted toward huge, global enterprises (not great for smaller companies)
[/su_list]
[/su_column]
[/su_row]
[su_button url="https://www.truescreen.com/" target="_blank" style="default" background="#FFA500″ color="#FFFFFF" size="7″ wide="no" center="yes" radius="auto" icon="icon:info-circle" icon_color="#FFFFFF" text_shadow="none" desc="" download="" onclick="" rel="nofollow" title="" id="" class=""]Learn More ![/su_button]
What's Included?
With Truescreen you will gain access to many tools and services, such as:
Fingerprinting

Drug testing

Occupational health screening

Student and apprentice screening

Background screening for employees (with fully customizable criteria)

Onboarding services

Workforce screening (vendors and freelancers)
Alongside all of this, there is a reliable customer service team that supports you every step of the way.
Features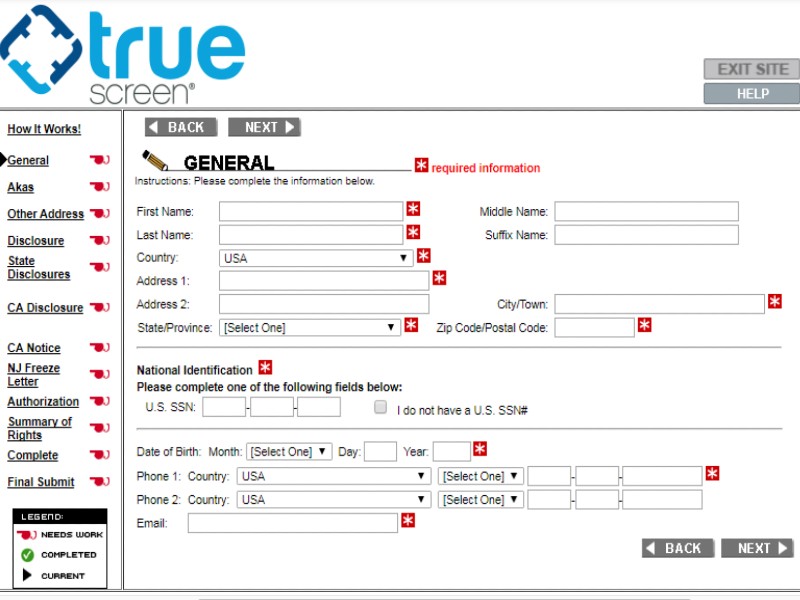 Thanks to the wealth of experience that comes along with Truescreen, you receive a bunch of features when you choose this service. Earlier in our Truescreen background check review, we touched on some of them, but it's about time we take a closer look at the most important ones.
Centralized Program Management System
Since the Truescreen screening service is web-based, the developers have created a central platform to make it easier to navigate around. From here, you will be able to see all the tools you have at your disposal — including the results from your previous checks!
Everything is controlled from this base. You can see legal resources, access your employment applications, use a bunch of report configuration tools and even order new reports.
In essence, this is the entirety of Truescreen in one, simple-to-use page.
Custom Report Configurator
As you know, most background check services have a report creator. However, this one allows you to stay well-and-truly on brand with the extensive customization features.
Plus, there isn't a limit on how many reports you can run at a time. No more waiting for them to be sent to you — just rustle them up, it only takes a few moments!
Real-Time Drug Tracking
Usually, when a potential employee completes a specimen sample for a drug test, you are pretty much left in the dark until the results are sent to you.
Well, Truescreen seemed to decide to flip this on its head.
With the special SpecimenTrack service offered by the company, you can get live updates on your applicant's screening procedure. It's incredibly intuitive and wastes no time in giving you the final result. After all, that's the only thing that matters.
Automated Scoring System
Every industry and type of business has different criteria for their candidates to meet in the background checks. Because of this, you can't use a one-size-fits-all formula.
Truescreen has adapted the process to allow you to submit your own scoring criteria. After you're happy with it, you can then ask the system to apply it to all your reports.
This is pretty handy since it speeds up the time you spend reviewing the checks and ensures that everybody is treated fairly against the same criteria.
Review Summary
Overall, the Truescreen Background Check system is top-notch. After testing a bunch of similar services, this one offered the best customer service and user experience.
You really can't go wrong!