When you search for background check solutions, you'll come across many familiar names. However, none of them will be more prominent and recognizable than LexisNexis, a company that's been in the business since the 1970s. 
During that time, they pioneered the use of digital means to access legal and business research and risk management services. That begs two questions, "Are they still an industry leader today, and what are they good for?" Well, that's precisely what we'll explore in this LexisNexis background check review.
LexisNexis offers highly-tailored data and analytics services according to the industry you're from. Among many others, they pre-package specific data solutions together for clients working in Collections and Recovery, Financial Services, and Corporations and Nonprofits. 
Firstly, it's essential to understand that performing a background check with LexisNexis isn't as straightforward as opening up an account and keying in someone's name. Instead, LexisNexis has a vast portfolio of services that you can choose from, each catering to particular needs. In fact, it is so expansive that it can be quite overwhelming trying to find the precise services you require. 
Still, each of those services allows you to collect all relevant information when performing a background check on a potential business partner, customer, vendor, and etcetera. 
Where LexisNexis truly stands out is in how thorough and in-depth their information gathering is, as seen by how many sources they draw from to provide you with a complete picture. Some of those sources are common among similar providers, like criminal records, Sexual Offender records, and bankruptcy filings.  
Beyond that, LexisNexis even further includes cellular and alternative phone records, not to mention concealed weapons permits and firearms records. All told, LexisNexis can generate up to 150 different types of reports based on your specific needs!
Just to give you an example, a specialized service like Nexis Diligence™ offers many of the above, plus the additional benefit of searching the media for any negative news featuring the person being checked. So, if you're in a business that's concerned with optics, using such a service would be a good step when performing background checks on a potential hire, for instance. 
All in all, LexisNexis seems like the ideal solution for enterprise customers who want to spare absolutely no expense or effort in the background checks that they pursue.
Who's it for?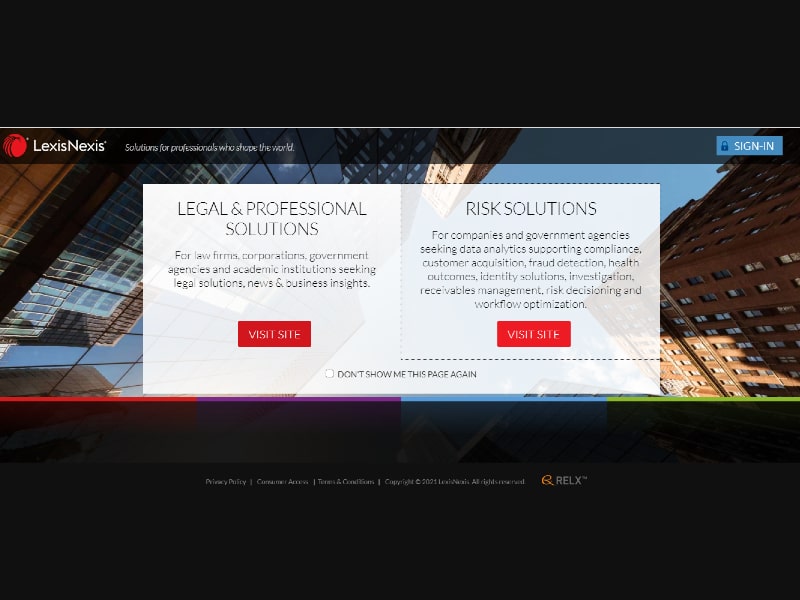 While LexisNexis can benefit almost any organization, many of their products and services work immensely well for Collections and Recovery, Financial Services, Healthcare, Insurance, Corporations, and Nonprofit organizations. 
LexisNexis also offers robust background check solutions for Government agencies, Law Enforcement, and Public Safety institutions. 
LexisNexis is not for users looking for a straightforward and simple way to perform background checks, like when they're hiring new candidates for a company's job openings.
What We Like About LexisNexis 
Overall, we like how LexisNexis is a compelling and robust background check solution. While they do place emphasis on specific industries (as mentioned earlier), a closer look at each of their products makes it apparent that they can benefit almost any industry imaginable. 
For one, it's clear that LexisNexis is suitable for larger organizations seeking to manage their risk by gathering data to make better-informed decisions. So, another reason to like them is that they have offices all over the world in the Americas, Europe, and the Middle East and Asia. Large enterprise clients need that global presence to ensure that their background checking needs are always met.
Lastly, we also like that their background check solutions aren't limited to checking individual persons. The services they offer also include due diligence and data gathering on companies that you might interact with or do business with.
What We Don't Like About LexisNexis
The primary thing we don't like about LexisNexis is that it's overwhelming and, truth be told, quite confusing. Don't get us wrong; we stand by our opinion that LexisNexis has a vast range of services tailored to almost any need a customer may have. However, with all those many services, a prospective customer might not know where to begin.
[su_row class=""]
[su_column size="1/2″ center="no" class=""]
PROS
[su_list icon="icon:check-circle-o" icon_color="#008000″ indent="0″ class=""]
A vast range of products tailored for several industries

Relies on cutting edge data and analytics technologies

Collects data from public sources and proprietary data stores

Has an international presence to support global clients
[/su_list]
[/su_column]
[su_column size="1/2″ center="no" class=""]
CONS
[su_list icon="icon:stop-circle-o" icon_color="#FF0000″ indent="0″ class=""]
An overwhelming number of services on offer

No transparent pricing or other sign-up information

List item
[/su_list]
[/su_column]
[/su_row]
[su_button url="https://www.lexisnexis.com/" target="self" style="default" background="#FFA500″ color="#FFFFFF" size="7″ wide="no" center="yes" radius="auto" icon="icon:info-circle" icon_color="#FFFFFF" text_shadow="none" desc="" download="" onclick="" rel="nofollow" title="" id="" class=""]Learn More ![/su_button]
What's Included
The information that you can get through a background check done on LexisNexis will differ significantly depending on the solutions you're using. In other words, what you get through the platform could be as straightforward or as complex as you want it to be.
Like most background check solutions, you can use LexisNexis to verify contact details, employment and education history, bankruptcy records as well as criminal histories. However, you can also use the platform to verify a person's concealed weapons permits, professional licenses, and more.
Overview of Features 
All of LexisNexis's products rely on two things: big data and advanced analytics. Regardless of what LexisNexis product or service you use, it'll draw from the company's vast public and private data sources and process that information using sophisticated technologies.
The end result is high-quality, actionable information that you can rely on.
Review Summary 
There's no denying that LexisNexis is a powerful solution to verify elements of a person's background. However, the company's products and solutions are mainly suited for enterprise users like large corporations or government institutions.
For that reason, LexisNexis doesn't just rely on public sources of data. Instead, the company draws its information from both public and private data stores before 'connecting the dots' using its analytics technologies.
With enterprise users distributed all over the globe, LexisNexis, too, has a presence all over the Americas, Europe, the Middle East, and Asia. So, wherever your organization may find itself, LexisNexis probably won't be too far away. 
There are two downsides, in our opinion. Firstly, LexisNexis spreads itself across far too many products and services that the offering can be overwhelming and confusing to new customers. 
Second, there are no upfront and transparent details about pricing or how a company may sign up for their services, other than calling their Sales team. 
Overall, as mentioned before, LexisNexis is an excellent choice for organizations that don't want any effort spared in the background checks they request.