Is there a more fraught social arena than the modern dating scene? The introduction of cutting-edge social technology in the dating pool has meant you have an amazing opportunity to meet people you would have never found 20 years ago. 
On the other hand, we hear new stories every day about gas lighters, predators, abusers, and other nasty folk infiltrating the dating scene. The television show Catfish sustains its popularity through that phenomenon, as well as podcasts that explore people who are not what they seem (for example, the brilliant Something Was Wrong).
So, how can you nip these problems in the bud? You might have heard the phrase "background check" before, and if you are a teacher (or watch a lot of CSI) you will be awfully familiar with it. Although they get a lot of use in these scenarios, police and teaching institutions are not the only ones who can use background checks.
Best Background Check Softwares For Dating Comparison Table
Company
Features
Website
BEST PICK


Integration along side numerous tracking tools, including the Crime Wire blog, a national sex offender database, and a criminal records database.
Handy android app
Support from 7am-7pm PST Monday through Friday

Learn More Here!

Dark web integration

Public record access

Mobile app support

Learn More Here!

Use of vertical searches, powerful tool for sifting
excels at tracking one particular entity
Internet sources includes IMDb, ESPN, LinkedIn, Facebook, corporate biographies

Learn More Here!

Two different types of report
Standard Report : DOB, Address history, Arrest Records, Relations, Social Media Profiles, Emails, License Information, and Nearby Sex Offenders
Premium Report: Weapon permits, Controlled Substance Permits, Job histories, hunting Licenses

Learn More Here!

Gives you access to several search option
These 7 tools includes: Reverse phone tracing, email address lookup and tracking, address reverse search, username search tool, vehicle lookup, an unclaimed money tracker
It could map a normally anonymous person's activity online



Learn More Here!

Search is wide range to different public records in each information request
The blog is a handy customer support tool for all the associated areas around background searches
The blog keeps users up to date

Learn More Here!

Offers a lot of data for a cheaper price
Offers property deed search
You can use two popular tools: A reverse phone search and and email search

Learn More Here!

Well-established company with a great reputation

Easy to cancel subscription

Checks criminal records

Has a reverse phone lookup feature

Learn More Here!
It is a common tool for landlords, employers, and even prospective roommates nowadays. It follows, then, that you should be able to use one for dating if you want to.
Our Reviews and Comparisons of the Best Dating Background Check Product 
We have created our list with in-depth comparisons of each product – running down the list of the top services out there. To do this we also trawled through countless user reviews on different sites, letting us know exactly what the consumer experience is as well as our own testing.
Read on to find out our picks for the best background check products!
1. PublicSeek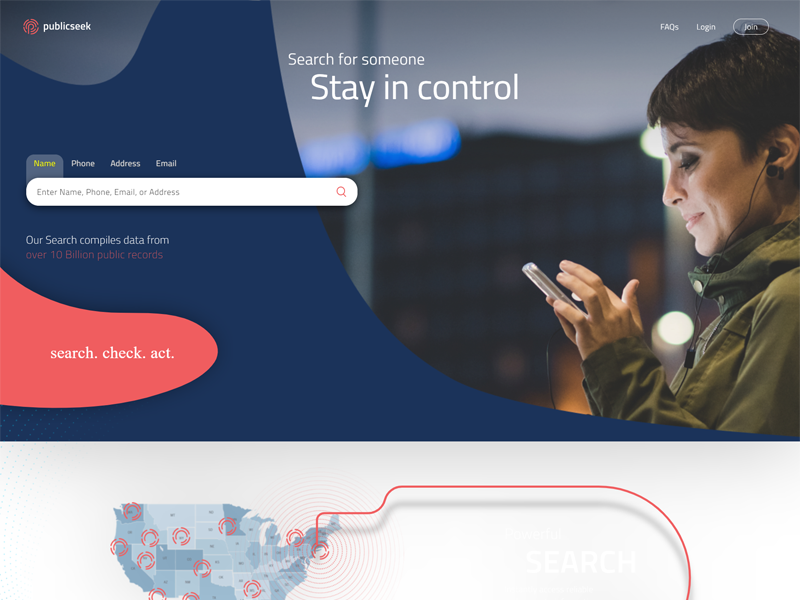 Product Highlights
Reliant on over 10 billion public records, PublicSeek utilizes a wealth of information to create search profiles for huge numbers of people online. 
Having rebranded from SeekVerify, the service can be used to obtain both a standard background report and a premium report.
Both come packaged within different subscription models. However, all the information offered by PublicSeek is updated frequently – a substantial draw.
Features 
Two different types of report, standard and premium

Standard reports include (where available): DOB, address history, arrest records, relations, social media profiles, emails, license information, and nearby sex offenders.

For an extra $20 dollars or so, the premium report includes weapon permits, controlled substance permits, job histories, and hunting licenses.
What We Like About PublicSeek
The best feature of PublicSeek is how often it keeps you updated. All information contained on PublicSeek is updated every 24 hours, and each time it is refreshed you get notified about any new information about your searches. 
Common complaints about these kinds of services revolve around outdated information, so this is an excellent benefit to using PublicSeek.
What We Don't Like About PublicSeek
Again, a lot of these companies suffer from similar complaints: ones revolving around deceptive or confusing subscription packages.
You are provided a 1-day free trial and immediately after the one day you are charged a full subscription. The length and auto-enrolling of this "free trial" confounded many users and contributed to a lot of poor ratings on the Better Business Bureau website.
PROS
Really quick refreshing and updating of your search information (every 24 hours!)

10 billion different public records accessed for its searching.

Covers some interesting aspects like weapon permits and controlled substance licenses that you don't often see.
CONS
Crowded interface

Misleading free trial period that confounds a lot of users
2. Intelius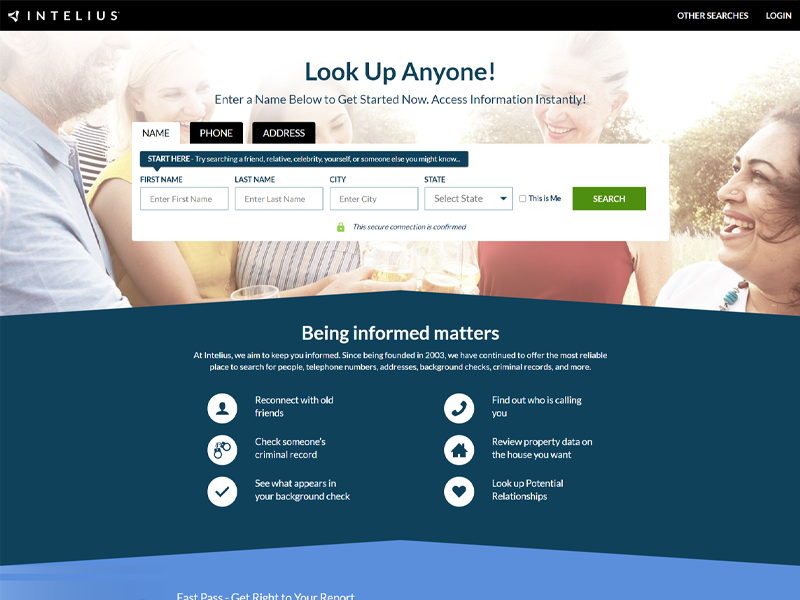 Product Highlights
Founded by some ex-Infoscape employees back in 2003, Intelius is one of the most prominent (and in some cases, infamous) background check providers out there.
Due to its storied, nearly 17-year history, the service is one of the most comprehensive, being able to scour through almost 20 billion different public records. One of the reasons it works so well is due to its incorporation of "vertical search engines" – the act of searching through specific, localized areas of the internet for specific terms.
This is coupled with an easy user interface, a grade A rating from the Better Business Bureau, and mobile device compatibility with all its background-check functions.
Features 
There are a whole host of features offered by Intelius here. 
In particular, the company's canny use of vertical searches makes for interesting reading, as well as a powerful tool for sifting through public records or data.

It excels at tracking one particular entity (or person) across multiple different points on the internet.

Internet sources include IMDb, ESPN, LinkedIn, Facebook, corporate biographies, and the like.

It is a program that is specifically not dedicated as a consumer reporting agency and is not used for employment or credit means.
What We Like About Intelius
One of the most attractive draws of Intelius is its ease of use. The various networks and methods of data gathering it has will mean that you need little input information to get a lot of knowledge in return.
You can just have a name, number, or address, so can get as much info as possible from those sources. Furthermore, this gives your searches an awful lot of flexibility – if you just want to check out the housing history or employment info that can be done relatively quickly.
Intelius does more than just collate one individual identity from loads of different data points. It also forms a web of what it calls "Intelius Connections". An Intelius background check can bring up a list of known associates that you can see have interacted with your intended search target.
Of course, this is an invaluable tool for checking someone you are dating.  It allows you to cross-reference your findings or concerns from actual people in their lives. 
What We Don't Like About Intelius
There is, unfortunately, a downside (as there often tends to be in cases like this). Intelius is not exactly what you would call a "squeaky clean" company – ironic for a company specializing in background checks.
Intelius has had a class-action lawsuit filed in California courts of law due to automatically enrolling consumers into programs run by its partner, Adaptive Marketing. These programs allegedly automatically charged Californians for memberships and made the charges hard to dispute. 
Further to this, in 2009 Intelius was accused of violating Washington's Consumer Protection Act in Seattle. This was again associated with auto-enrolling consumers in Adaptive Marketing programs without informed user consent.
The plaintiffs in the class-action lawsuit were allegedly charged $19.95 monthly for unneeded services by Adaptive Marketing's "unneeded" and "unrequested" service. The court ruled in favor of the class, and Intelius settled for a whopping $10.5 million combined sum between the plaintiffs.
So, the unfortunate risk attached to getting an Intelius service to run your background check is that your own identity may be passed on to its associate companies for further charging.
PROS
Comprehensive, well-rounded tool

Easy to use UI.

Simple to operate. 

Provides a large number of results.

Also gathers a selection of searched target's associates, giving you a list of potential contacts for verification purposes.
CONS
Company embroiled in lots of data and sales controversies (including some lawsuits)

Other issues with charging have been recorded, with some users being charged three times for a trial purchase.

Some users report poor customer service interactions.
3. Been Verified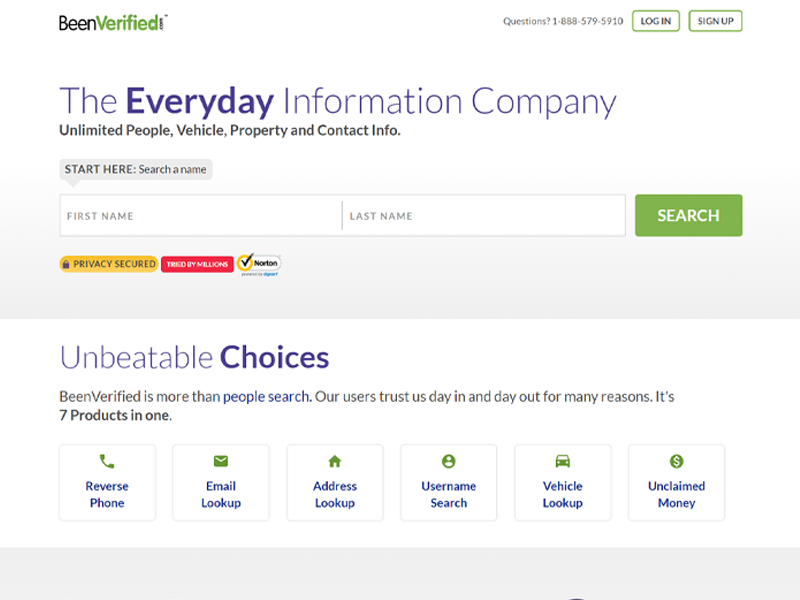 Product Highlights
BeenVerified has been operating since 2009 in the background check arena. The company focuses on running consumer end criminal background checks after a brief foray into the employment verification field.
There is a whole host of different ways that BeenVerified can help you with a dating background check. Rather than sticking to one specific, overall check, the company has a lot of different, granular search options that you can use to customize your search – you can check for vehicle numbers, property deeds, employment history, and even school records should you need.
Features 
BeenVerified gives you access to several search options.

More so than that, it has seven different features in one (aside from the standard person-search), which makes it a powerful background check tool for prospective dating partners.

These 7 tools include the following: reverse phone tracing; email address lookup and tracking; address reverse search (including property deeds etc.); a username search tool; vehicle lookup; an unclaimed money tracker.

What is useful here for any checks of prospective dating partners are the email lookup and username search.

In a hyper-online world, being able to track username operation is integral.

It could map a normally anonymous person's activity online, help see if an email given to you is legitimate, or just verify how active the online persona you are presented really is.  
What We Like About Been Verified
BeenVerified has some brilliant customer reviews, especially with regards to its customer support. This support system is open from 6 am to 11:30 pm EST every day, through both email and phone means.
Another great thing about BeenVerified is the way it uses its tool to investigate and find sex offenders. Most recently, the company has dedicated a lot of resources to create an augmented reality app that will ping and notify you if you are in the presence of a registered sex offender.
For the discerning dater, this is incredibly handy as it could provide a real-time filtration process to inform you of unscrupulous matches you might encounter in the real world.
What We Don't Like About Been Verified
Many users, including this tester from PC World, found that the app has a tendency to report the occasional helping of misinformation. Addresses listed in the app do not always align with the most current location of a person, implying that at least their location tracking is out of date.
Further to that, several users have found that sometimes a BeenVerified search charges for a service it does not provide. Before viewing a BeenVerified search, it tells you that you must make a small payment to see the results.
After paying, the results are revealed. Unfortunately, there are not always results to see. However, BeenVerified does not tell you that there is no information before you make the payment, arguably quite misleading marketing.
PROS
Comprehensive search tool

A multifaceted approach is great for the flexibility required in the modern dating scene.

Username tracker is a clever attack vector for tracking an online fingerprint.

Great customer service
CONS
Charges you even if it does not find any results.

Locational information is occasionally inaccurate.
4. PeopleFinders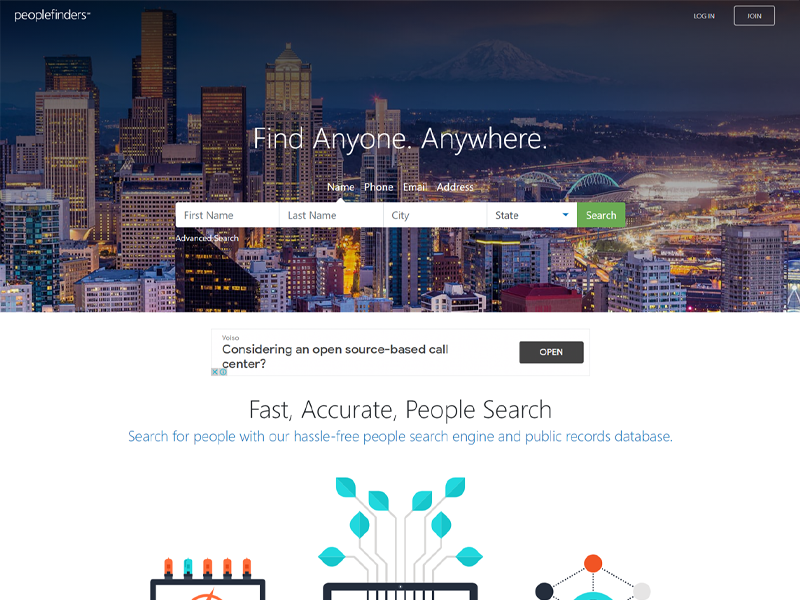 Product Highlights
Getting his start in the background investigation business, PeopleFinders' founder Rob Miller used to be a private investigator for Intel. In 1999, he expanded upon previous business Confi-Check to cater to the public desire for record access, founding PeopleFinders.
The service is largely a "people search" product, which harnesses and indexes public records to create a data identity of a person you can look at. There are also options for reverse phone searches which tend to be extremely popular.
PeopleFinders' focus on public record access, rather than using strictly internet sources, is both a blessing and a curse. While it does not offer a digital fingerprint of a person, it has unrivaled access to public records that create one of the most comprehensive views of a person's material life out there. 
In fact, this company's curated data profile of a person is so good, it was one of the world's fastest-growing internet companies in 2008, listed as a Deloitte Fast 500 company in both 2008 and 2009.
Features 
The main draw of PeopleFinders' people search is the wide range of different public records it utilizes in each information request.

Searches using PeopleFinders trawl through criminal records, marriage and divorce documents, bankruptcy filings and property notices.

All of these are gathered through government agencies, property records, and a whole host of other public records sources out there.

An interesting feature of PeopleFinders is also how the customer support manifests.

This is present as both a classic phone and email line, but also as a blog. As well as presumably driving site engagement, the blog is a handy customer support tool for all the associated areas around background searches.

In an easy, approachable format, the blog keeps users up to date on PeopleFinders, the different methods of background checks, and demonstrates the use-case of their product in a contemporary setting.
What We Like About PeopleFinders
Truth be told – PeopleFinders is simply good. Its use of public records is second to none, using over 43 billion public records from around the US. You can deep search with it, using phone searches and even more plunging background checks.
These 43 billion records come from over 6000 data sources, having operated for over three decades in this space. The customization of searches on PeopleFinders is great too, meaning you can have access to whatever depth of data you want.
For example, if you are only trying to reconnect with a potential dating partner you have misplaced contact info for, you can do so. If you want to track down a number you were given but forgot the associated name, you can find that.
If, however, you have suspicions about someone you are planning on or are dating, there are options for you too. You can check criminal records, search for property validation, and even check family linkages to relatives so you can verify people's info for yourself.
More so than just that, PeopleFinders lets you see some indication of what results you will get from a search before you pay for it. This is unlike other services that charge you regardless. With PeopleFinders, you can make a much more informed purchase with your search. 
What We Don't Like About PeopleFinders
Essentially, PeopleFinders is a bit behind the times. Its search tool is unmatched for trawling through available public records to find information on someone.
Despite this prowess, a lot of background check programs have adapted to include one of the most important things in the current time: Web 2.0. 
Web 2.0 is a moniker given to the bits of the internet that focus on user-generated content, rather than strictly site-led posts. This can include lots of different types of websites, including WordPress sites, Medium blogs, LinkedIn, and most online social media.
By omitting this element of modern personal identity from its searches, what PeopleFinders does is limit itself to a purely mechanical, material trace of a person's real, official life.
Tools that also scour Web 2.0 can create a much fuller, more intricately illustrated picture of a person – placing your search target's digital fingerprint at your feet. In a modern setting, this is what sets a background check software above the rest.
PROS
Unparalleled access to over 43 billion different public records

Excellent purchase transparency – you can see what you are buying before you do so.

Customer support through its blog is a fun, unique way to support its consumer base.
CONS
Does not use any contemporary Web 2.0 sources, limiting its searches to records that could also be accessed offline.

This lack of Web 2.0 content makes there 0 online social content that is present in PeopleFinders' background checks.
5. PeopleLooker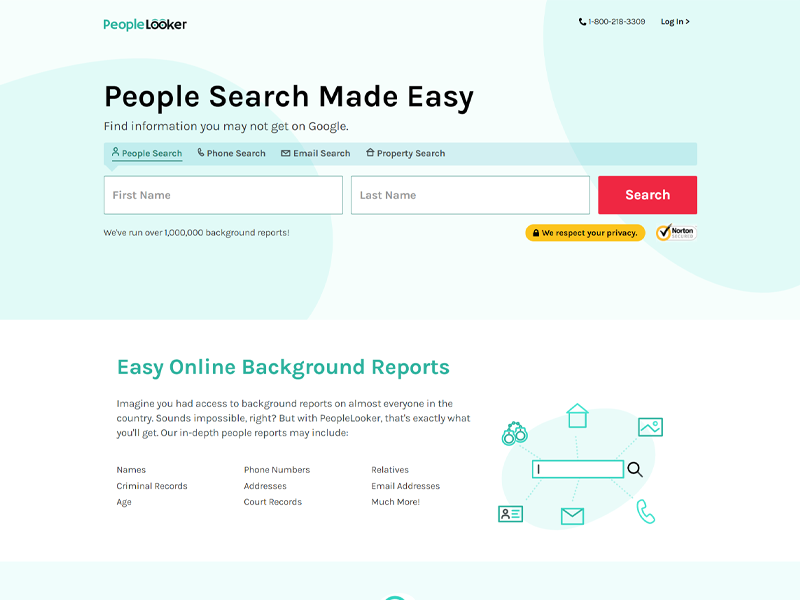 Product Highlights
Having run over a million background reports, PeopleLooker advertises itself as an affordable solution for background searches on people you might know.
It allows for searches of loads of different social media accounts online, alongside multitudes of public access records to build a comprehensive data profile that reflects not only government-held public records but also Web 2.0 Social media info 
The service is available as a monthly subscription and a pay-as-you-go per-search product.
Features
PeopleLooker's monthly subscription service offers you a lot of data for a cheaper price than you might have to pay for as an individual process.

The company also offers property deed search.

Alongside this, you can also use two extremely popular tools: a reverse phone search and an email search (this one can be handy for tracking down weird dating app profiles that seem a bit untrustworthy)

US-based phone support is also offered (with a supplementary email line) open from 6 am to 11:30 pm EST.
What We Like About PeopleLooker
PeopleLooker's social media username search is a particularly powerful tool.
By plugging in a username – you know your date has – the search can throw up: age details, addresses, any criminal records associated with the account, possible relatives, phone numbers and email addresses, and profile photos from and links to other accounts. 
If these bits of info do not match something your date has told you, you might be able to garner some more accurate information about them. 
More than just for suspicion's sake, a search like this could also reveal potential interests or hobbies of your date, which could be used to give you some stunning gift ideas or fun event surprises for them!
What We Don't Like About PeopleLooker
PeopleLooker's varied approach to pricing models offers some flexibility but is also seen by some consumers to be misleading.
It can be really confusing when using the website, and the fact that the company's homepage does not forefront its pricing information and instead offers its search function immediately is not the best look.
This means that often, the first-time users see a prompt for pricing, it is after completing their search – barring users from their results unexpectedly.
PROS
Powerful username search tool

This tool works in conjunction with its username and phone search tools, the information you get from one could inform your next deep dive.

The use of social media profiles, cross-referenced with public records is a great way to incorporate Web 2.0 in a more traditional search.

PeopleLooker's flexible pricing plan offers a lot of consumer choice.
CONS
The flexible pricing plan is quite confusing.

A relatively large monthly subscription price often yields out of date info that you can find better results for on Google.
6. Instant Checkmate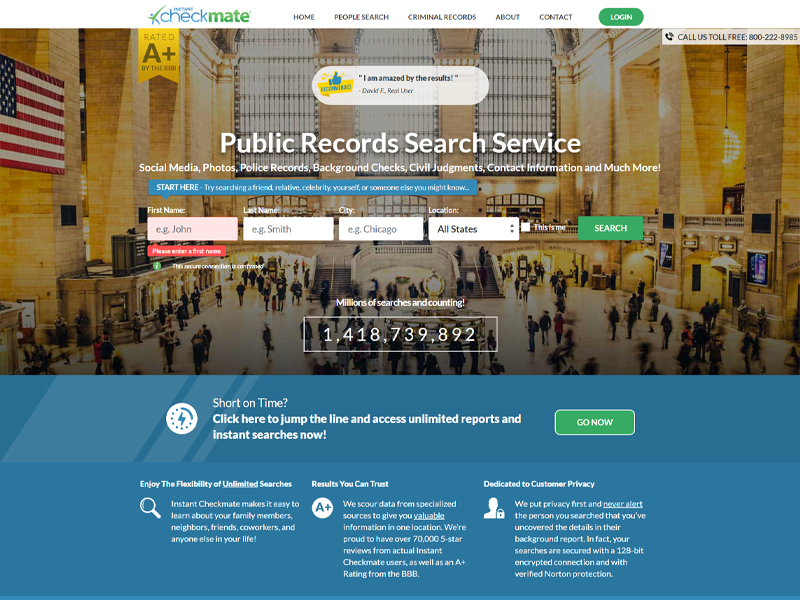 Product Highlights
Instant Checkmate is a service that sells itself, particularly on its use as a criminal background checker.
This is one of the biggest concerns you might have when investigating a dating partner, so for that purpose, it is a brilliant product. 
It specializes in criminal background checks relating to arrest records, current inmate or recent inmate searches, and the sex offender database.
Obviously, if these are issues you are concerned about, you would want a powerful to sift through and correctly identify that information.
Features 
Integration alongside numerous crime-tracking tools, including the Crime Wire blog, a national sex offender database, and a criminal records database.

Handy Android app

Options for a people search too.

Support from 7am-7pm PST Monday through Friday
What We Like About Instant Checkmate
Instant checkmate is probably the most reliable option you have when investigating the criminal history of a potential date.
It is incredibly comprehensive, especially with regards to searching for sex offenders that might be present nearby you (or on your dating apps of choice). 
As part of your people search, you can also use Instant Checkmate's Index of Common Last Names. This is a useful tool if you do not know your date's last name.
Perhaps the app you met on only displays last name initials, or you haven't got to the surname level of your relationship yet.
What We Don't Like About Instant Checkmate
Like Intelius, Instant Checkmate gets in trouble on various accounts for charging people past the point they have consented to.
This issue is rife on different customer care websites online, with accounts of unwanted automatic monthly renewals, refusal to refund proper amounts of money, and often poor customer support.
Instant Checkmate is also undoubtedly one of the more expensive options for this kind of product – and is also no longer supported by Apple as part of the app store.
The service itself operates through numerous distracting and hard to navigate popups. 

PROS
Brilliant integration with criminal background records

This includes a comprehensive sex offender check-up tool.

The index of last names is a handy tool as a starting point for your investigation.

Quite a robust service that draws from numerous online and public record sources
CONS
Poor customer service

No Apple mobile support

Misleading pricing plans and auto-enrolling monthly subscriptions

Really pricey relative to competitors
7. TruthFinder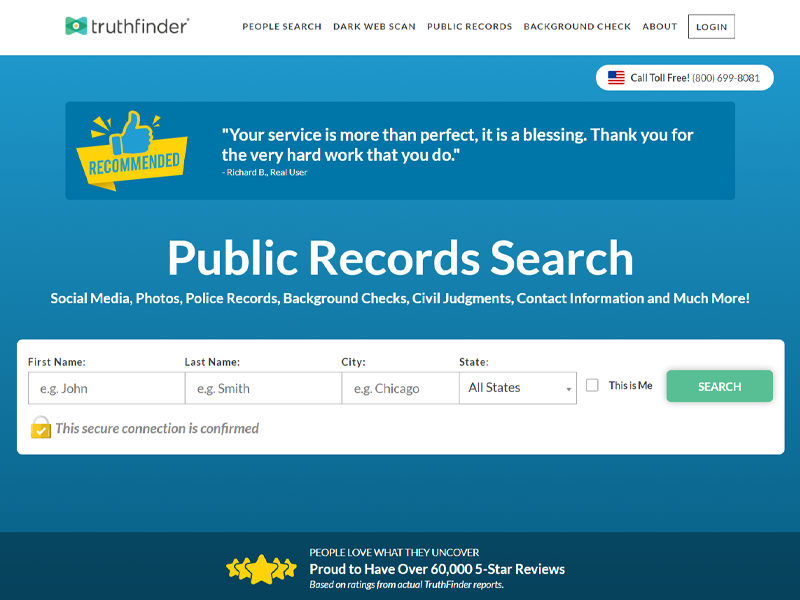 Product Highlights
TruthFinder is a service that includes people searches, background checks, public record usage, and an interesting service known as a "dark web check".
It is unusual to see a service like that offering a trawl into the dark web, but it does make sense in terms of a service like this.
The dark web searching checks to see if information about you or someone you are dating is on the dark web and enhances the general searches. 
It also uses Web 2.0 content as well as public records to form its search profiles.
Features 
Dark web integration

Public record access

Mobile app support

Access of relatives and relations in its searches
What We Like About TruthFinder
TruthFinder's person search has a heavy emphasis on accessing social media pages, census records and state/county records.
This makes it a brilliant tool for seeking out possible relationships the prospective dating partner might be hiding – or for locating exes you might want to check in on.
What We Don't Like About TruthFinder
A lack of a free trial lets TruthFinder down here. There is only the option for a monthly subscription, and this is packaged in a message that might mislead some about the amount of info they are about to find.
Coupled with no search preview, this makes for a disappointing result sometimes.
PROS
Use of dark web integration to power its searches is innovative and powerful.

Good at locating exes and potential marriages.

Really easy-to-use mobile app.
CONS
No free trial

No pay-per-search functionality

Occasionally misleading messaging
Final Verdict
In conclusion, we found that PublicSeek offers the most compelling background check software for consumer usage. It has the most powerful and updated information out of all the programs that were reviewed by far, updating every 24 hours (alongside constant notifications if your search status changes).
Moreover, a fair few of the more powerful products on this list have been embroiled in controversies about auto-enrolling users in other unwanted programs. PublicSeek has a powerful search function and does not hem users into programs and services they explicitly did not consent to buy. It should be imperative that you can trust a service like this to protect the user data you give it, and PublicSeek respects that trust at all times.