Do you need information about Georgia's background check process? If so, you have come to the right place. Our in-depth guide provides you with all of the information you need to know about Georgia's background checks. We've also included details on driving records, vital records, and more so that you have all of the information that you need.
Background Check Laws in Georgia
The Georgia Bureau of Investigation (GBI) is the state's law enforcement organization. The Georgia Crime Information Center (GCIC), a division of GBI, maintains the state's central criminal record repository, using a variety of tools, such as the Computerized Criminal History.
Georgia State Records, in accordance with the Georgia Open Records Act, provides access to public records. The law ensures people can inspect and copy public records, which include criminal records, court records, and vital records unless a law or court order states that the record is confidential.
The Open Records Acts provides a detailed list of exemptions where public disclosure is not allowed. Records cannot be obtained for the following (full list detailing exemptions and allowances here):
Medical records
Law enforcement or prosecution records of a pending investigation
Jury list information
Individual Georgia uniform motor vehicle accident reports
Historic properties inventory and registry records
Department of Agriculture records
Athletic or recreational programs records of children 12 years of age or under
According to Georgia law, all prospective managers, directors, administrators, owners, and job applicants who work directly with clients must complete a criminal background check. The background check includes a state and FBI fingerprint check.
Georgia law also states that all current owners and employees working directly with clients will be required to complete a criminal background check by January 1, 2022.
The following types of facility types will require a background check:
Assisted Living
Nursing Homes
Adult Day
Home Health
Intermediate Care Homes
Nursing Homes
Personal Care Homes
Hospice
Private Home Care
The state uses its Georgia Criminal History Background Check System (GCHEXS) system to conduct criminal background checks for prospective and current employees. GCHEXS allows users to:
Check registries, including the Sex Offender Registry, Certified Nurse Aide, and federal OIG Exclusions List
Determine an applicant's background check status
Print a copy of the criminal background check fitness determination letter
Georgia also has a Voluntary Background Check Program, which allows facilities to obtain GCIC and FBI fingerprint-based background for employees directly working with clients.
What Shows up on a Background Check in Georgia?
In Georgia, a criminal background check can show a person's criminal history, financial history, employment history, educational background, and professional licensure.
A background check in Georgia can also show a person's driving record and credit history.
How Far Back do Background Checks go in Georgia?
The Fair Credit Reporting Act (FCRA) states how far background checks go in Georgia. Based on this law, a Credit Reporting Agency (CRA) isn't permitted to report arrest records that did not end with a conviction to be used when hiring that are older than seven years.
Georgia law, which closely follows FCRA regulations, requires employers to inform candidates that they obtained the candidate's criminal records, what they found in the records, and how it affected their decision to hire (or not hire) the candidate.
How Long Does a Background Check Take for a Gun In Georgia?
Federal law states that federally licensed firearms dealers, not private dealers, must initiate a background check on a buyer before selling them a firearm.
Until 2005 Georgia was a "point of contact" state, meaning the GBI was responsible for conducting background searches for gun sales.
Georgia repealed that law, so it is no longer a state "point of contact." All background checks are completed by the FBI using the federal National Instant Criminal Background Check System, or NICS, database currently.
Firearms dealers in Georgia must reach out to the Federal Bureau of Investigation, or FBI, directly in order to proceed with a background check.
The FBI has three business days to complete a background check after a dealer in Georgia requests it. If the dealer does not receive a response from the FBI within that time frame, the transaction can be completed.
How do I Get a Background Check in Georgia?
Public records in Georgia are available either online or by submitting an open record request form.
Generally speaking, your request should include the following information:
Your name and contact information, including your phone number and email address
A description of the document you would like access to with as much detail as possible
Your preferred delivery date
A State Accounting Office (SAO) representative will contact you after you submit the online request form.
Your Georgia criminal history record is available from your local police department or sheriff's office. You can call or visit your local law enforcement agency to determine what requirements are needed to secure a copy of your criminal history record in Georgia.
Fees for Background Checks
As a result of a 1991 court case, Trammell v. Martin, Georgia is not allowed to charge fees for searches or retrievals. There are two exceptions. If you need copies, you can be charged $.25 per page. If there is an unusual time, cost, and effort in searching and finding records, the state can charge a fee but must let you know ahead of time.
Georgia Criminal Records
Georgia criminal history record information, excluding sealed records, can be obtained for licensing or employment purposes. Sealed records refer to juvenile records, expunged records, and usually sentences successfully completed under the First Offender Act.
Georgia requires that you make an appointment at the GCIC office to request criminal records for yourself or any other individual. If you want to see criminal records for another person, then you must have signed consent from that person and submit it to a GCIC official. You will need to include their full name, social security number, birth date, and address.
The GCIC Lobby Office will assist you with criminal history restrictions, inspections, and histories.
Call 404-244-2639 and choose option one for an appointment.
Georgia's Computerized Criminal History (CCH) database maintains criminal history records of offenders and includes information such as:
The jurisdiction where the charge is recorded
Charge and filing date
Defendant
Mug shots
Case number
Degree of offense, like a misdemeanor
Prosecutor dispositions and date
Sentence
To get a copy of your Georgia criminal history record, you can visit your local police department or sheriff's office. Before you visit, it's important to call to confirm what will be required for you to bring so that you can obtain a copy of your criminal history record.
Arrest Records
Employers in Georgia are not permitted to ask questions concerning or consider expunged arrest records, dropped or dismissed charges, or charges that did not result in a conviction.
Ban the Box
Georgia's Ban the Box law prevents employers from making inquiries into a job applicant's criminal history until after the first part of the employment application process is complete. A criminal history, once obtained, cannot be used as a reason for barring an applicant automatically.
Several cities and counties in Georgia have passed similar laws, including Macon-Bibb County, Fulton County, Cherokee County, Albany, Atlanta, and Augusta.
The counties, like the state, only ban the box for government jobs.
First-Time Offenders
According to Georgia's First Time Offenders Act (FOA), a person may be able to avoid a first-time offense from being on their record. A judge decides whether or not the defendant is classified as a first-time offender.
What if My Criminal History is Wrong?
If you believe that Georgia has the wrong criminal information and want to contest it, you must submit your fingerprints, which the GCIC will then compare to confirm that the results were wrong or not. You will be required to pay a fee, payable by money order or certified check to the GCIC.
If you cannot come in person, you are required to submit the following information:
A written and signed request explaining why your criminal history is being contested. You must include specific information regarding the request and include your return mailing address.
A current set of eight flat finger impressions and ten rolled fingerprints
Two fingerprint cards completely filled out with the applicant's personal information (name, date of birth, place of birth, etc.)
A photocopy of the applicant's identification, used to present to the law enforcement agency that did the printing, must be included. Provide the address and telephone number. GCIC can contact the agency with any questions they may have.
A fee is required in order to contest your criminal history records. It can be made payable by certified check or money order to the Georgia Crime Information Center.
Georgia Inmate Search
Inmate information is available via Georgia's Department of Corrections (GDC).
Using the GDC website, you can search for an inmate by entering their first and last name, gender, race, age, and the most recent institution the inmate was held at. You can also search by ID, sentence status, conviction county, primary offense, or case number.
When searching for an inmate, you will receive the following information:
A mug shot
Name, birthdate, and gender
Registration number
Incarceration facility
Custody status
Jail transfer information
When searching for an inmate, you must agree to the GDC website's terms of use, including an acknowledgment that some records may be incomplete.
Georgia Court Records
State court records include probate issues such as divorce or death records, civil court cases, bankruptcy, and criminal court records.
What shows up on a court record?
Court records can include the following information:
Case files and information
Court minutes
Dockets
Witness documentation
Where Can I Find Georgia Court Records?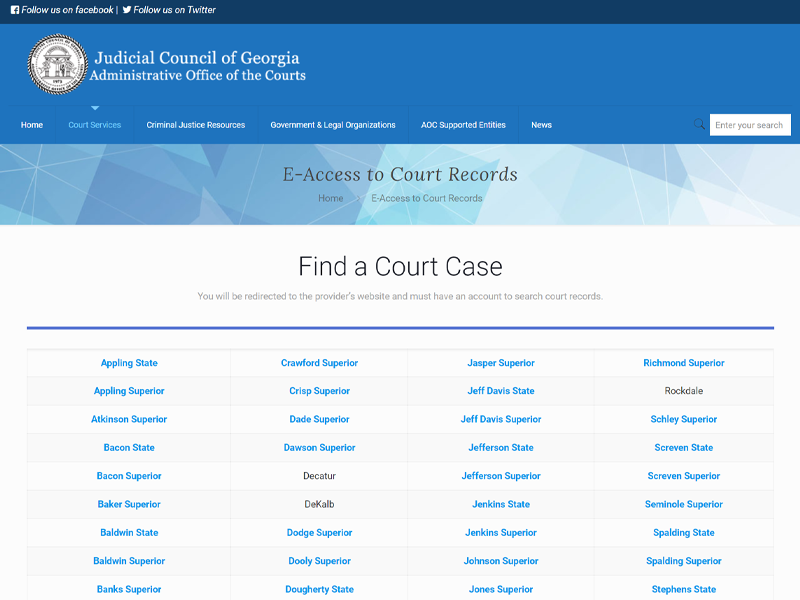 Georgia consolidates each county's civil and criminal cases on their website so that it is all in one place. You will need to register for an account. It is free to do so. Choose the county that the case is located in, and you can conduct a search.
Georgia stores its state and local court records at their county-level courthouses. The records will be under the court that heard the case. You can go through the county clerk's office for most records or call the county's court clerk.
Georgia Vital Records
Georgia's Department of Public Health is responsible for registering, amending, certifying, and preserving the state's vital records. Vital records include:
Birth
Death
Marriage
Stillbirth / Fetal deaths
Induced Termination of Pregnancy, or ITOP
The DPH also processes paternity acknowledgments, adoption orders, legitimations, and other amendments and corrections to vital records. The DPH oversees the State of Georgia's Putative Father Registry as well.
How do I access Vital Records?
Vital records can be accessed in several ways.
In-Person: You can request vital records by visiting the State Office of Vital Records or any of the County Vital Records offices.
By Mail: You can request vital records by mail. You must send a completed copy of the vital records to request form with the required supporting documents, and payment to:
State Office of Vital Records
1680 Phoenix Boulevard, Suite 100
Atlanta, GA 30349
Online: The State Office of Vital Records has several online options you can choose from when ordering birth and death certificates.
GO Certificates (Third Party Vendor): Using a major credit card, order online. If you choose standard delivery, you will receive your request in four to six weeks. If you choose to have your request expedited, you will receive your request within five business days.
ROVER (State of Georgia): Using a major credit card, order online. Standard vital record requests will be sent between four to six weeks, while expedited requests take only five business days.
VitalChek (Third Party Vendor): Using a major credit card, order online. Standard vital record requests will be sent between four to six weeks, while expedited requests take only five business days.
It's important to note that all online choices only include birth and death certificates, and there are surcharges and expedited fees.
What information is needed to request a vital record?
The state of Georgia requires the following information in order for you to obtain vital record (depending on what vital record you are searching for):
The date or date range of the vital record requested.
The event's location (county or city)
The searched person's full name of the person, including maiden names
For a marriage record, make sure to include the license number
Divorce case file number
Georgia Driving Records
You can obtain a driving history report, otherwise known as a Motor Vehicle Report (MVR), in Georgia by completing one of the four options available:
By Downloading the DDS 2 GO Mobile App: view two years of your driving history for free using this mobile app. To search further back, you can request a three or seven-year non-certified or certified report for a fee.
Online Services: You can create an online account, and then you will be able to request a three or seven-year non-certified or certified report for a fee.
In-Person at a DDS Customer Service Center: You can download and fill out the Motor Vehicle Request Form (must be original) and request a three or seven-year or lifetime report in-person. You must include the licensee's full name, date of birth, and Georgia driver's license number. If you are requesting a report for another individual, you must show proper identification and present the driver's signature. In-person requests must be paid for with cash or a credit/debit card. No other forms of payment are accepted.
Via Mail: You can mail a letter to the Georgia Department of Driver Services to receive a certified copy of your driving history. YOu must include your name (as it appears on your driver's license,) date of birth, and mailing address. You must include a self-addressed, stamped envelope with your request.
Important Notes:
A non-certified driving history report (MVR) is only available for viewing for 30 days after being requested. You can print it but not download it.
If you need a certified, stamped MVR for insurance, employment, or anything else, then you must request a Certified MVR. This report can be sent to a third-party. The fees associated with a certified MVR are as follows:

3-year Driver History Report: $6.00
7-year Driver History Report: $8.00
Lifetime Driver History Report $8.00
Business users who request more than 50 MVRs per month can request Bulk MVR Reports.
How Do I Obtain a Credit History Background Check in Georgia?
The Fair Credit Reporting Act (FCRA) allows you to get one free annual credit report from each of the three credit bureaus, which include:
Experian
Equifax
TransUnion
Individuals can submit the following information in order to obtain a free credit report from one of the three credit bureaus listed above:
Full name
Address
Date of birth
Social security number
Can I Get a Free Background Check in Georgia?
In Georgia, you are not able to obtain an official criminal background check for free. However, you can head to your local law enforcement agency and request a copy of your criminal background check at a relatively small fee.